ANNOUNCEMENTS
•

05/14/2021

Greetings classmates!

Our OHS 65 reunion planning committee met this week, and officially scheduled the weekend of September 17-19 for our reunion. The main dinner and social event will be Saturday night, September 18th. This is the weekend of Ottawa's Ol'Marais River Run Car Show, so motel reservations need to be made as soon as possible! All local motels were contacted today, and those with available rooms are listed. Motels fully booked have been marked out. (Holiday Inn Express in Ottawa has nine rooms available at this time, for example).

Activities being scoped out by our planning committee at this time:

We expect this to be a fun weekend in Ottawa with a lot going on for sure! More details will be provided as our committee finalizes our plans! Feel free to send any questions to our website: select the Contact Us link on the home page of our web website. Watch for updates on our homepage!

Regards,

Bill Lister
May 8, 2021
David James Hood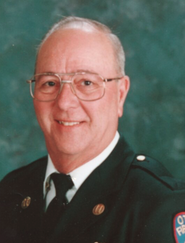 David "Boss Man" James Hood, 77, of Ottawa, KS died Thursday, May 6, 2021 at the Olathe Medical Center in Olathe, KS.
He was born June 19, 1943 in Ottawa, Kansas the son of Cecil Dean Hood and Julia Elizabeth (Elder) Hood. He graduated from Ottawa High School in 1965.
On July 20, 1965 David was united in marriage to Helen Hubbard in Rantoul, Kansas. They shared fifty-five years of loving marriage.
David owned and operated the Hood's Dari Treat for several years early in life. He then joined the Ottawa Police Department, where he became a sergeant. In 1981, David transitioned to the Ottawa Fire Department and became a truck driver engineer eventually becoming a captain. In 2000, after 30 years of acting as a public servant in the police and fire departments, he retired. From 2006 to 2010, he continued to serve his community as a Franklin County Commissioner. David worked for Franklin County Public Transportation from 2008 until his death.
He was a member of Ottawa Lodge #18 Masonic Lodge, where he was a 32nd Degree Mason as well as a member of the Scottish Rite. He was also a member of the Abdallah Shrine Temple no. 30 of Overland Park, KS. He was a Fraternal Order of Eagles Aerie 2700 member, and was on the board for the Area Agency on Aging.
He was preceded in death by his parents, Cecil and Julia Hood, and two sisters; Deana Robertson and Delma Nickolson.
He is survived by his wife, Helen Hood of Ottawa, KS; two daughters, RaJeanna Barnhart and her husband, Rodney, of Ottawa, KS, MaLinda Manis and her husband, Shane, of Ottawa, KS; a brother, Jerrold Hood of Overland Park, KS; four grandchildren, Jessica Barnhart and Tyler Wiederholt, Lynze Barnhart, Juleah Manis, Benjamin Manis and Makenna Ferguson; four great grandchildren, Brantley Massengale, Easton Mille, Tynslee Wiederholt, and Bristol Manis, many nieces, nephews, and cousins.
Graveside funeral services will be 10:00 a.m., Tuesday, May 11, 2021 at Sutton Cemetery, Baldwin City, KS. David's family will greet friends for a visitation from 6:00 p.m. to 8:00 p.m. Monday, May 10, 2021 at Lamb-Roberts-Price Funeral Home, 325 S. Hickory, Ottawa, KS 66067. Memorial contributions may be made to Williamsburg Wildlife Club and sent c/o Lamb-Roberts-Price Funeral Home, P.O. Box 14, Ottawa, KS 66067. Condolences may be sent to the family through www.lamb-roberts.com.
May 6, 2021
Greetings classmates,

Our legendary golf pro Don Peters is arranging an OHS 65 golf outing at Great Life Golf Course to be held June 14-16. A kickoff lunch will be held at Ottawa's Pizza Village at 12:30 on Monday, June 14th. Contact Don at 620-672-1546 or Bob Haas at 785-242-6792 to confirm plans for attending.

Take care,

Bill Lister
October 19, 2020
To all my friends who posted Birthday wishes, I would like to say THANK YOU very much. An acquaintance called me earlier today and sang Happy birthday and I had completely forgotten about it. Guess I have one of those memories that seem to come to so many in our age group. Maybe it's just not wanting to cross that next year off the books. Well anyway.....THANK you my friends!
Steve Murray
October 5, 2020
Ronald Lee DePriest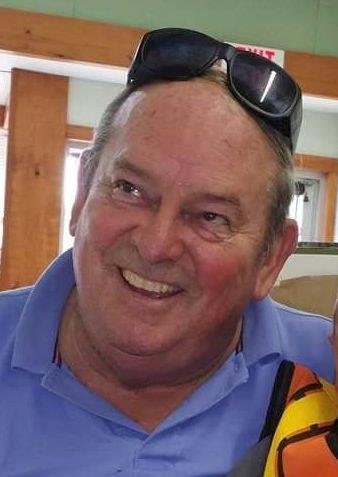 Ronald Lee DePriest, 73, formerly of Ottawa, Kansas, passed from this life on Monday, September 28, 2020, at the Shawnee Mission Medical Center with his children at his side.
Ron was born on August 9, 1947, to Othal Lee and Ruth Peugh DePriest in Ottawa, Kansas. He graduated from Ottawa High School and attended Kansas State University in Emporia. In his younger years he and his brother Gary ran a video game room in Ottawa called Good Time Get Away. Through the years Ron drove commercial trucks and buses, was in real estate and various sales jobs, owned and operated a construction business, and loved to dabble in politics.
Preceding him in death were his parents, an infant brother Don Alan DePriest and his sister Becky DePriest. Ron is survived by his children, Jonathan (Sheryl) DePriest, Ronnie (Lia) DePriest, Risa (David) Ditamore and step son, Sean Babb, 4 brothers, Gary (Diana) DePriest, David (Marcia) DePriest, Harold (Janet) DePriest, Phillip DePriest and companion Danita, and one sister, Martha (Bobby) DePriest Dodd and 17 grandchildren as well as numerous nieces and nephews.
Graveside services will be held October 17th at 10:00am for friends and family at the Richmond Cemetery in Richmond, Kansas.
August 2, 2020
Classmates,
Janis Detwiler Berry's husband Larry passed away last week. Her mailing address is 2525 Southern Avenue, Jefferson City, MO 65109. There is also a website thru the funeral home below that will reach her family.
Regards,
Bill Lister
Larry J. Berry, 79, of Jefferson City, Missouri passed away peacefully on Wednesday, July 29, 2020 at Villa Marie Senior Living. He was born on June 20, 1941 in Hannibal, Missouri, a son of the late Melvin C. and Juanita (Ingalls) Berry. Larry was united in marriage on December 25, 1994 in Las Vegas to Janis Detwiler.

Larry was a graduate of Hannibal High School. He was employed for the Missouri Department of Transportation. Larry then obtained his real estate license and worked for several local companies including Coldwell Banker and ReMax. He was a member of the United Sportsmen's Club. Larry enjoyed hunting and fishing and was an archery champion in his earlier years. He also tinkered on his classic cars. Most of all, Larry enjoyed spending time with his family.

He is survived by his wife of 25 years, Janis; daughters: Cindy Berry, Darla Berry-Clancy and Loralie Tennpenny; step-children: Shelley Hughey (Lynny) and Shannon Henry; half-brother: Dana Hutchison and many grandchildren, great-grandchildren, family and friends. Larry was preceded in death by his parents and brother: Melvin Berry.

Private family services will be held.

In lieu of flowers, expressions of sympathy may be made to the United Sportsmen's Club, 4400 Ossman Lane, Jefferson City, Missouri 65109.
Arrangements are under the direction of HOUSER-MILLARD Funeral Directors, 2613 West Main Street, Jefferson City, Missouri 65109 (573) 636-3838. Condolences may be left online for the family at www.millardfamilychapels.com.
July 15, 2020
Classmates:
I was able to attend Roxy's funeral service today. It was a wonderful celebration of her life. They had an open microphone during the luncheon. I said I had been fortunate to have been her classmate all thru high school. I told them that at the end of each year we nominated a male and female for Mr. and Miss OHS. I told them we had a very special class with a number of worthy candidates on the girl's side to receive that honor. In my mind, she was the best candidate and she did win that title. I said she had an infectious smile and laugh. She was a kind, giving, thoughtful and caring person. However, the one thing that really sticks out to me was that no matter what your station in life, she was ALWAYS respectful and kind to everyone.
Respectfully,
Don and Jeanne Peters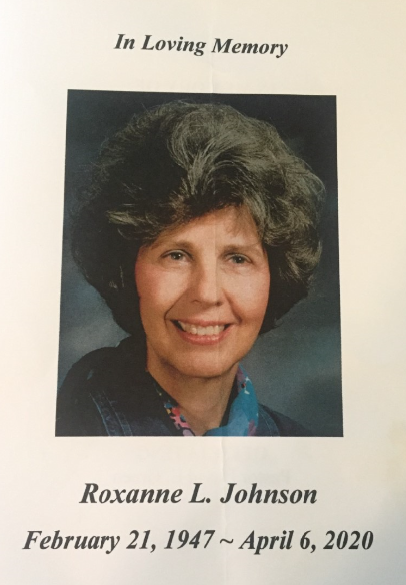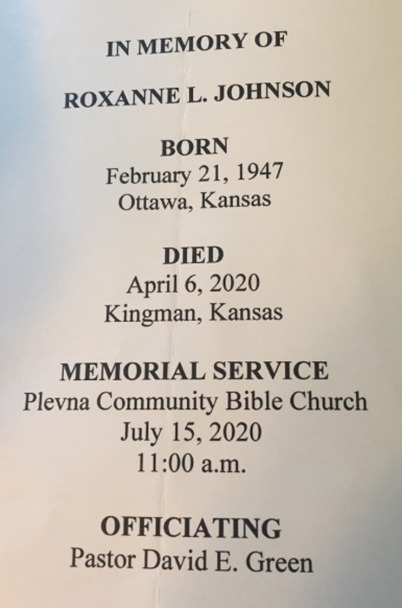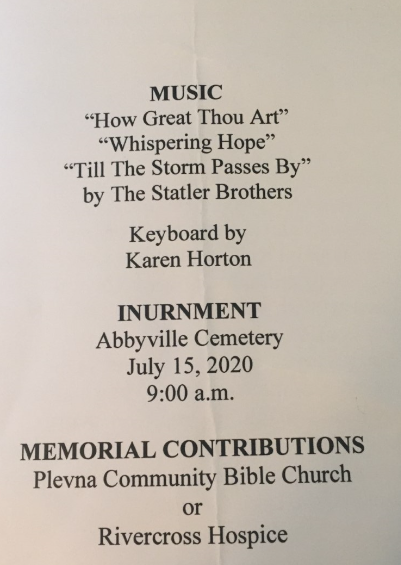 July 2, 2020
Roxanne's Service at Abbyville
Dear All,
We have decided on a date to hold Roxanne's service. Interment will be in the Abbyville Cemetery at 9:00 AM on Wednesday, 15 July 2020. A memorial service will be held afterwards at the Plevna Community Bible Church at 11:00 AM, followed by a luncheon at the church.
We understand all the difficulties of travel that the COVID19 virus brings with it. Currently, the Kansas Governor has mandated wearing masks in the state, although Reno County has not signed up for that. We certainly do not expect you to make a trip to Kansas these days, but wanted you to know the schedule. Please stay safe. You and yours are in our prayers.
Take Care. Blessings. Sandra and Rod
July 1, 2020
OHS 65 2020 Class Reunion Update
Greetings Classmates,
Our reunion committee have determined it best to place a hold on our 2020 reunion plans until a more feasible target date can be identified.
From the beginning of our reunion planning efforts starting in October, 2019, we found a large number of our classmates very interested in attending the reunion. Many phone calls and emails reflected the passion we have for our fellow classmates and school history. It was very rewarding to be in-touch with so many of our classmates! Based on this, we definitely want to re-schedule a reunion that is safe and secure for all of us. When this time comes, we are sure to be ready to party! Going forward, we will periodically broadcast a reunion update to our classmates on our website, and our committee will be prepared to get back on our reunion project to make it a success. We want this next reunion to be the best ever!
Regards,
Bill Lister
June 03, 2020
Server Upgrade Requires New User Login
Greetings Classmates,
We successfully migrated our website to a new secure-enhanced cloud-based environment over the past few days. To reach this new location, the vendor provided the following instructions:
2. Some users may be seeing this message because their browser has cached the page.
If you are seeing this message after June 1st please do the following to refresh your browser:
Windows users: <Shift> <F5> or <Ctrl> <F5>
Mac users: <Command> <R> or <Command> <Options> <R>
If the first option does not work please visit this site for detailed instructions on how to clear your browser cache on Windows, Mac and Mobile: Clearing your web browser cache.
Note: We have found the above procedures may not easily work for everyone - due to many types of cell phones and pc devices.
The following procedure may be simpler for some classmates to reach the new server:
Delete any shortcuts of links you may have previously used to reach our website. (Delete browser cache if easy to perform on your device)
Open a browser and enter our website address: ottawahs1965.com
Follow the login procedure requested on our website: enter your email address and your password.
The password may need to be re-entered. If so, select "forgot password" to re-establish password (an email will be sent to you with a link to re-enter password)
Our apologies for this inconvenience. Please let me know if you have any questions:
Regards,
Bill Lister
May 11, 2020
Thurston (Bill) William Wallace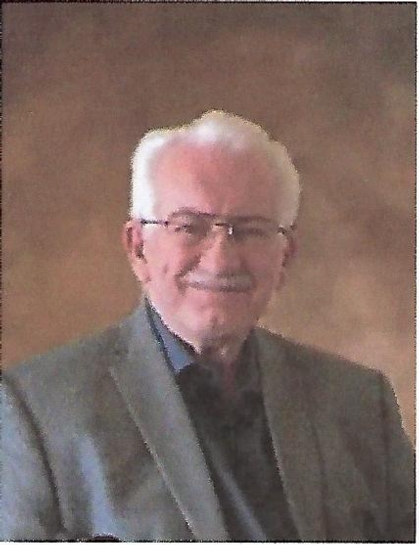 Thurston (Bill) William Wallace, born August 23, 1947- died May 2, 2020 of ALS. Born in Ottawa Kansas, graduated from Ottawa High School, University of Kansas, and University of Denver Law School. Preceded in death by parents William Wilbur and LaVerne Catherine, and brother Scott James Wallace. Survived by wife Margaret Ann (married in 1975), children John William Wallace and his wife Brooke, Amanda Ann Bushek and her husband Joseph, and Nathan James Wallace. Grandchildren Jacek Patrick, Danica Ann, and Mikaela LaVerne Bushek. Sister Geraldine Toth and her late husband Lou, niece Catherine and her husband Akos, nephew Matthew and his wife Jennifer and their son Alex. Sister Laurie Kuechler, nephew Brian and his wife Christy and their children Brycen and Kinzie.
He practiced law for 42 years in Brighton, Colorado: Daniel, McCain, Brown, Wallace & Brubaker; and his own firm. He loved history, old movies, music, cats, fishing, photography, telling stories, telling jokes (some of which were funny), fire trucks, trains, and sports. His greatest joy was being a husband, a dad, and "Bumpa" to his three wonderful grandchildren. He was known for his intellect, his charismatic humor, his expertise in complex legal issues, and his strong faith. He was proud to recognize his 20 years in sobriety with Alcoholics Anonymous. He will be dearly missed.
Contributions to ALS Association Rocky Mountain Chapter, 1085 Dover St Suite 500 Westminster, CO 80021: Tru Community Care Hospice 2594 Trailridge Drive East, Lafayette, CO 80026: Presbyterian Church, 510 South 27th Ave, Brighton, CO 80601.
Classmates,
Margaret Ann's mailing address:
321 Terra Vista Street
Brighton, CO 80601
Regards,
Bill Lister
April 6, 2020
Dear Family and Friends,
Our sweet Roxanne passed away this morning at Wheatlands Healthcare Center, Kingman, Kansas. Ron was at her bedside. Due to Corona virus restrictions, Ryan was outside at her window. May your hearts find comfort that Roxanne is at home with her Lord. A memorial service will be planned at a later date.
Thank you for your prayers. Blessings. Sandra and Rod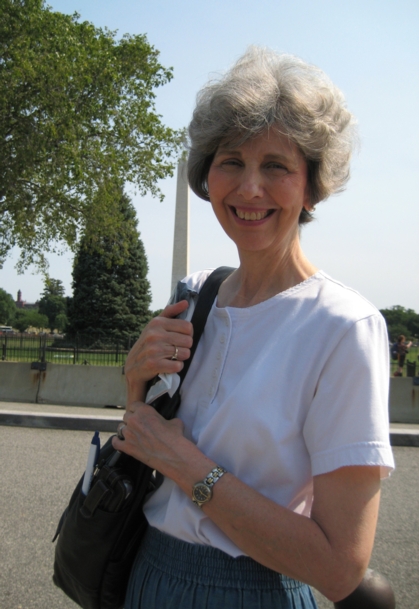 Roxanne Lennard Johnson
April 3, 2020
Classmates,
We heard from Roxy's family that her health is failing rapidly. We believe it is important to provide this update to our classmates today, to recognize such an incredible person and to ask for your thoughts and prayers! Following the family update are some very special thoughts from Cheryl, to help provide our classmates comfort for dealing with this. Ron's mailing address is: 18203 West Longview Road, Abbyville, Kansas 67510.
Sincerely,
Bill Lister
Dear Family and Friends,
We have been unable to visit Roxanne for quite a while, although we have been made aware of her condition through Ron. Of course, recently the Coronavirus pandemic has complicated lots of things. The news today is that her health is deteriorating rapidly. We believe she will pass soon. She is neither eating nor drinking. That issue began over the weekend. Ron and Ryan are both in Abbyville and are able to visit her individually. She is isolated in an individual room and they are allowed in one at a time with the room being sanitized between each visit. Yesterday was the first time Ron had been able to visit since the nursing homes in the state had been locked down two or three weeks ago. Ryan arrived last evening and was able to spend some time with his Mom. Some weeks ago Ron and Ryan decided, and we agreed, to set up something with Hospice, which they did. As a result, hospice is able to care for her in her room. That is a real blessing. We ask for your prayers for Roxanne, Ron, Ryan and the rest of her family. We know that God is watching over her and will take her home in His time. Blessings to you and yours during this difficult time for our country.
Sandra and Rod
Dear Classmates,
We have all followed Roxy's health issues for 10 years since her first stroke in February of 2010. It now appears that her physical struggles are about over and she is in hospice care. It is good to know that her husband Ron and son Ryan are able to visit with her at the nursing home in spite of the current lock-down situation.
Roxy has always been the same Roxy from Eugene Field School days forward. When some of us were unable to attend the 2005 Class of '65 Reunion, she sent us a 5-page single-spaced typed recap of her visits with EVERYONE who attended and closed with "Well, this is certainly more information than you expected or, for that matter, desired. However I wanted you to be a part of this reunion in some way. It was good, but it would have been a GREAT REUNION if each of you had been there. I thank you for your friendships through the years. I'm so grateful we "connect" at Christmas. I hope one day we can all spend a weekend together. I love each of you and treasure so many special memories of our times together. I'm glad we're forever friends. Love, Roxy". Who else would be so thoughtful to go to such lengths to keep us connected?
It was wonderful to be with Roxy in 2007 in Washington DC and to fulfill her and our 2005 hope that we could spend time together again.
Thinking of Roxy's great gift of friendship and our relationships with all of our Ottawa classmates makes us more aware that "We Are Family". Hopefully, she knows how much our "Miss OHS 1965" means to each of us.
With loving thoughts,
Cheryl
March 23, 2020
Greetings Classmates!
Virus Pandemic: We realize our nation's current health issues impact travel and group events worldwide, but hopefully things will recover sufficiently over the next six months. Reunion planning updates will be made on our website as information is made available. Meanwhile, our class website is a great place to have a virtual, perpetual reunion and maintain a sense of normalcy.
Reunion efforts: Our reunion planning committee continues to work hard toward our 55th class reunion targeted for September. Thanks to all their efforts, we are receiving more contacts and updates from classmates than ever before! We continue to reach out to many who have not been contacted in the past.
Profile Addition: By popular request, and to assist with contacting classmates, we have added three new profile questions, involving grade school, junior high school and senior high school years. Please login and update where possible. (Member Functions - Edit Profile on Home Page). This should assist our plans to make 'early school year pictures' available on our website. More news will follow on these efforts.
Home Page Modification: We will begin posting email broadcasts sent to classmates on the website Home Page entitled ANNOUNCEMENTS, with the most current at the top of the page. Several classmates are now logging in for the first time, and this will allow anyone to catch up, going forward, on important news that most likely would not have reached them before.
Regards,
Bill Lister
November 1, 2019
Classmates,
I want to take this opportunity to recognize our great loss of Greg Gilroy. He was an amazing individual and family man who made so many contributions and provided such wonderful support to the Ottawa community, the Guard, and many, many projects such as our OHS website. There is no one who can replace Greg. I am now the Administrator of the OHS website. The planning committee are working hard on our 2020 reunion, which is being dedicated this year to Greg! We have been encouraging Greg's wife Bonnie to attend our reunion's Saturday night dinner. (Bonnie has moved. Her new mailing address is now 1017 North Hickory, Ottawa, KS 66067).
Our 55th OHS Class Reunion will be held on the OHS Homecoming weekend: September 25-27, 2020.
It is very important at this time for you to update our OHS website for any changes to your contact info:
Name
Mailing Address
Phone Number(s)
Email Address(s)
**UPDATE TIP:
Open Home Page,
Locate

MEMBER FUNCTIONS

group on left side of screen,
select

Edit Contact Info

,
update required information, and
select

SAVE

.
We must have current information to keep you updated on our reunion planning, and to insure that schedule materials with instructions will reach you by mail later this year. If there are any issues accessing our website, please contact me directly:
Email: coalcreekranch@hotmail.com
Cell Number: 785-204-2254
We sure hope to see you at our reunion!
Take care,
Bill Lister