ANNOUNCEMENTS
April 6, 2020
Dear Family and Friends,
Our sweet Roxanne passed away this morning at Wheatlands Healthcare Center, Kingman, Kansas. Ron was at her bedside. Due to Corona virus restrictions, Ryan was outside at her window. May your hearts find comfort that Roxanne is at home with her Lord. A memorial service will be planned at a later date.
Thank you for your prayers. Blessings. Sandra and Rod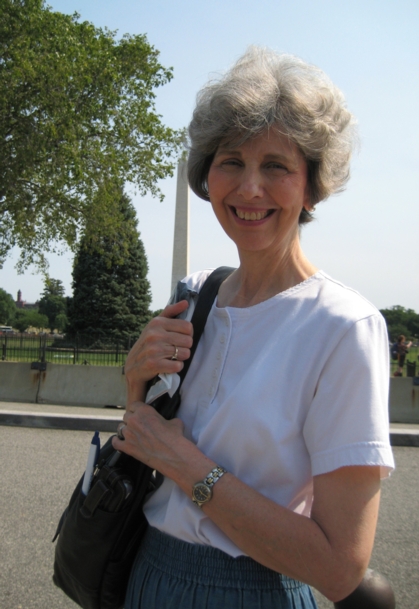 Roxanne Lennard Johnson
April 3, 2020
Classmates,
We heard from Roxy's family that her health is failing rapidly. We believe it is important to provide this update to our classmates today, to recognize such an incredible person and to ask for your thoughts and prayers! Following the family update are some very special thoughts from Cheryl, to help provide our classmates comfort for dealing with this. Ron's mailing address is: 18203 West Longview Road, Abbyville, Kansas 67510.
Sincerely,
Bill Lister
Dear Family and Friends,
We have been unable to visit Roxanne for quite a while, although we have been made aware of her condition through Ron. Of course, recently the Coronavirus pandemic has complicated lots of things. The news today is that her health is deteriorating rapidly. We believe she will pass soon. She is neither eating nor drinking. That issue began over the weekend. Ron and Ryan are both in Abbyville and are able to visit her individually. She is isolated in an individual room and they are allowed in one at a time with the room being sanitized between each visit. Yesterday was the first time Ron had been able to visit since the nursing homes in the state had been locked down two or three weeks ago. Ryan arrived last evening and was able to spend some time with his Mom. Some weeks ago Ron and Ryan decided, and we agreed, to set up something with Hospice, which they did. As a result, hospice is able to care for her in her room. That is a real blessing. We ask for your prayers for Roxanne, Ron, Ryan and the rest of her family. We know that God is watching over her and will take her home in His time. Blessings to you and yours during this difficult time for our country.
Sandra and Rod
Dear Classmates,
We have all followed Roxy's health issues for 10 years since her first stroke in February of 2010. It now appears that her physical struggles are about over and she is in hospice care. It is good to know that her husband Ron and son Ryan are able to visit with her at the nursing home in spite of the current lock-down situation.
Roxy has always been the same Roxy from Eugene Field School days forward. When some of us were unable to attend the 2005 Class of '65 Reunion, she sent us a 5-page single-spaced typed recap of her visits with EVERYONE who attended and closed with "Well, this is certainly more information than you expected or, for that matter, desired. However I wanted you to be a part of this reunion in some way. It was good, but it would have been a GREAT REUNION if each of you had been there. I thank you for your friendships through the years. I'm so grateful we "connect" at Christmas. I hope one day we can all spend a weekend together. I love each of you and treasure so many special memories of our times together. I'm glad we're forever friends. Love, Roxy". Who else would be so thoughtful to go to such lengths to keep us connected?
It was wonderful to be with Roxy in 2007 in Washington DC and to fulfill her and our 2005 hope that we could spend time together again.
Thinking of Roxy's great gift of friendship and our relationships with all of our Ottawa classmates makes us more aware that "We Are Family". Hopefully, she knows how much our "Miss OHS 1965" means to each of us.
With loving thoughts,
Cheryl
March 23, 2020
Greetings Classmates!
Virus Pandemic: We realize our nation's current health issues impact travel and group events worldwide, but hopefully things will recover sufficiently over the next six months. Reunion planning updates will be made on our website as information is made available. Meanwhile, our class website is a great place to have a virtual, perpetual reunion and maintain a sense of normalcy.
Reunion efforts: Our reunion planning committee continues to work hard toward our 55th class reunion targeted for September. Thanks to all their efforts, we are receiving more contacts and updates from classmates than ever before! We continue to reach out to many who have not been contacted in the past.
Profile Addition: By popular request, and to assist with contacting classmates, we have added three new profile questions, involving grade school, junior high school and senior high school years. Please login and update where possible. (Member Functions - Edit Profile on Home Page). This should assist our plans to make 'early school year pictures' available on our website. More news will follow on these efforts.
Home Page Modification: We will begin posting email broadcasts sent to classmates on the website Home Page entitled ANNOUNCEMENTS, with the most current at the top of the page. Several classmates are now logging in for the first time, and this will allow anyone to catch up, going forward, on important news that most likely would not have reached them before.
Regards,
Bill Lister
November 1, 2019
Classmates,
I want to take this opportunity to recognize our great loss of Greg Gilroy. He was an amazing individual and family man who made so many contributions and provided such wonderful support to the Ottawa community, the Guard, and many, many projects such as our OHS website. There is no one who can replace Greg. I am now the Administrator of the OHS website. The planning committee are working hard on our 2020 reunion, which is being dedicated this year to Greg! We have been encouraging Greg's wife Bonnie to attend our reunion's Saturday night dinner. (Bonnie's new mailing address is 839 South Willow, Ottawa, KS 66067).
Our 55th OHS Class Reunion will be held on the OHS Homecoming weekend: September 25-27, 2020.
It is very important at this time for you to update our OHS website for any changes to your contact info:
Name
Mailing Address
Phone Number(s)
Email Address(s)
**UPDATE TIP:
Open Home Page,
Locate

MEMBER FUNCTIONS

group on left side of screen,
select

Edit Contact Info

,
update required information, and
select

SAVE

.
We must have current information to keep you updated on our reunion planning, and to insure that schedule materials with instructions will reach you by mail later this year. If there are any issues accessing our website, please contact me directly:
Email: coalcreekranch@hotmail.com
Cell Number: 785-204-2254
We sure hope to see you at our reunion!
Take care,
Bill Lister
ANNOUNCEMENTS
•

Hi guys: It has been awhile since I have been on the OHS site due to some crazy health problems. Looking forward to seeing all of you in September.

Regards,

Don Peters